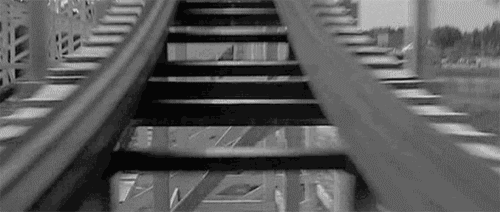 The dirty secret of the startup industry...
Is that it's an emotional rollercoaster.
With yourself.

Starting and running a company, launching a creative project, changing careers... these take a massive emotional toll.
I've been there. I bootstrapped a company at 23, hitting $1M in revenue... and then got shingles at 26 from stress.
Which was the best thing that could have happened.
I've spent the last few years dedicated to completely changing my relationship with my work. And it's something I've been profoundly grateful for.
What if instead of settling for incremental improvements, slight upgrades or changes..
You can leap forward by developing yourself through the process of subtracting stories, ideas, stresses all of which limit you?

There are the ceilings you run into again and again, and on the other side is an entirely new height to reach.
Not because of competition, not because of cash flow, not because of anything outside of yourself. Not even because you don't know "how" to do any technique?
Start by setting up a call.
Arrangement:

There is no greater opportunity, no greater reward that can come from discovering more about yourself, it's the most important and underrated method for growth.
We will have conversations weekly, in 6-week blocks of time.
Anxiety, stress, difficulty in relationships or work...all can be overcome and outgrown. But to do so, you need to reach the roots, rather than reaching for the superficial fixes...
I am offering to be a mirror My job is to help you reflect, help you see, help you become more of what you know inside you can be in the world.
To help pinpoint areas that have been a cycle of confusion, pain, stress or lack of momentum.
And help you remove them entirely.
I hesitate to call it coaching, because I'm more like a creative partner. It's more of a process you can apply to examine areas in your life which need change.
My job is to raise your bar for what life can be.
And help you get a step up on growth that will last and serve you as a foundation for the future.
Start by setting up a call.
xx David
P.S. First meeting is on me, and I have no expectations for where we start, only for where we go.
P.P.S. It takes courage to raise your hand, to actively try and change things, which is why I'm making call 1 open, without expectation.
The Struggle...
For Artists
"I took on too many things (new day job, very intensive and time-consuming evening course) and now I barely have time or energy to continue getting (interesting.) proofreading and translation work. "

–– Claire

"I've been full of the creative energy to start projects lately, but with my full-time school and multiple part-time jobs I'm worried I won't be able to get any of them done on time, let alone all of them. It's difficult to choose where to put my energy and to find the time to see them through. "

–– Patricia


For Creators
"I put a lot of pressure on myself to write, and I still really struggle with putting my stuff out there. I suspect a lot of my best work is sitting in my saved drafts."


–– Biba

"I know I'm a creative person, but I can't seem to figure out what to put that creative drive behind. Being a recent college grad, I am presented with many paths my life could take. And while I do believe you can change your life path at any age/time, I often freeze in the face of the multitude of options I have at this current crossroads."

–– Haley



For Freelancers
"Feeding all the fires between current clients, wrapping up reviews and portfolios with past clients, and nurturing new ideas/projects. I thrive off of challenging myself and finding balance. But sometimes the new ideas are too enticing and I'd rather dream about the future than do today's work."


–– Katy
"My biggest challenge is indecisiveness leading to not finishing an idea out of my comfort zone. I create instrumentals for music licensing and recently have felt stuck overthinking quality, which then led to abandoned projects. Self doubt led to a graveyard of beats. "

–– Mario



Addressing creative blocks:
Get back to momentum and fun by focusing on your biggest untapped opportunity, You.
––> Wake up excited for work.
––> Lead your team, conversations and yourself with mastery.
––> Reduce anxieties and stress.
––> Navigate complex relationships with ease.
––> Refresh your energy and insight.
To discuss where you're stuck, how I work with clients and how to get back to felling
💯
.
Permanent growth...


Creative Clarity


I cannot describe the sense of peace this gives me, or the relief that brings. You may well have saved a life today. Thank you <3.

–– Chris





Increased Productivity


A simple reminder of what you already know, but can so easily forget, is sometimes all you need.

––– Erik




Reduced Anxiety


It's so funny that you get just what you need, when you need it.

–– Janice