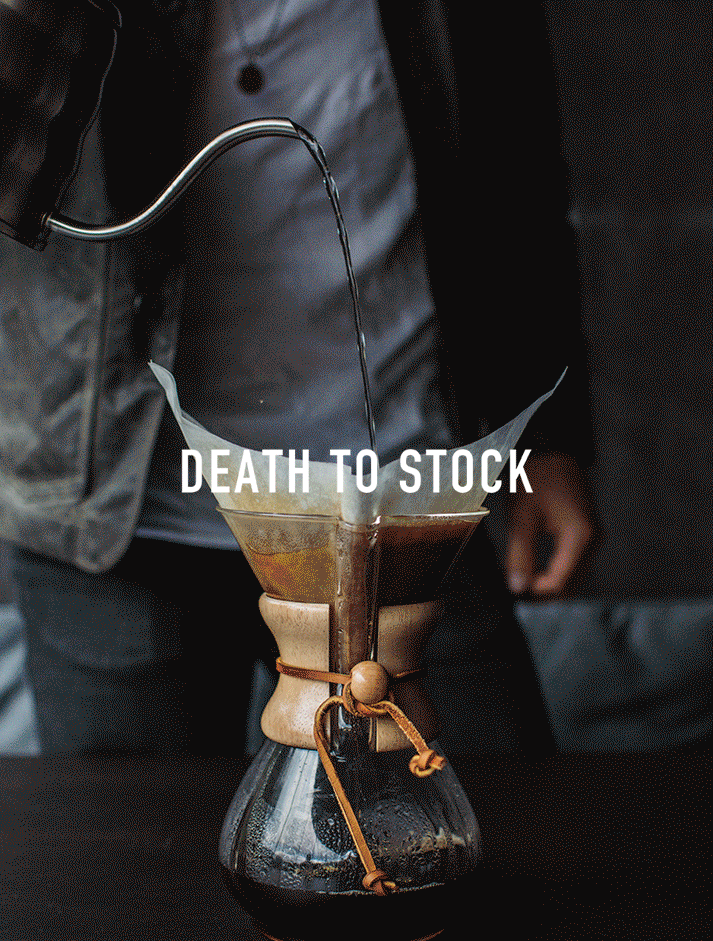 The Death to Stock Brand Story
Established in 2013,
Death to Stock
is an online Stock Media Publication and Agency for premium photography and video. "Death to Stock" is a phrase meant to call to the artist inside of us to do something beyond the status-quo. Death to Stock's insight was to bring a unique balance to the world of stock media; which was ever bland, white-backgrounded or just plain strange.
Death to Stock is an insurgent and an unlikely force. Unlike most stock media agencies which focus on quantity, Death to Stock focuses on achieving a "non-stock" look in each of it's regular drops of "photo and video packs" – a series of 10-30 images or video clips which tell a story and cover a thematic direction for it's users.
Starting as a simple as a landing page, the Death to Stock promise was simple: Sign up for monthly email releases of Premium Stock Photos to use in your projects, free. While the media itself over-delivered on value, Death to Stock found a unique point of differentiation in it's personality and conversational tone with it's audience. Functioning as a cross between a lifestyle-blog and stock agency, Death to Stock built a fanbase on the premise of telling unique stories, where it appeared as if the media associated with the story also just happened to be downloadable for it's audience to use in their own blog posts, website, app-mockups or presentations.
Almost everyone agrees that digital tools today are abundant as ever. What's less so, and remains scarce, is the ability to deliver a quality message with
context
about how to be, or
who to become
by using these tools. Death to Stock was able to carve a pathway forward not just for the stock media world, but also for the artist inside of us. Members of the subscription were shown a light to follow that supported and encouraged risk, quality, and personal connection above pure utility and scale.
And the timing couldn't be better. On a personal note, I am no longer at the helm leading this brand as CEO. Shaun Singh, long-time member and friend of Death to Stock and now full time CEO, is taking the company into a more mature stage of business. While the business will no doubt evolve, it will continue to lead by example in it's values and unique characteristics, with Shaun at the wheel.
Death to Stock is a modern taste maker, and aims to provide it's own style from which to take cues from.
The challenge in the years ahead are to continually evolve that style, and uncompromisingly remove any "stock" method, questioning norms and personalizing it's message at scale.
xx David